BS"D
"Getting Ahead: A Discussion with Chabad Women in Business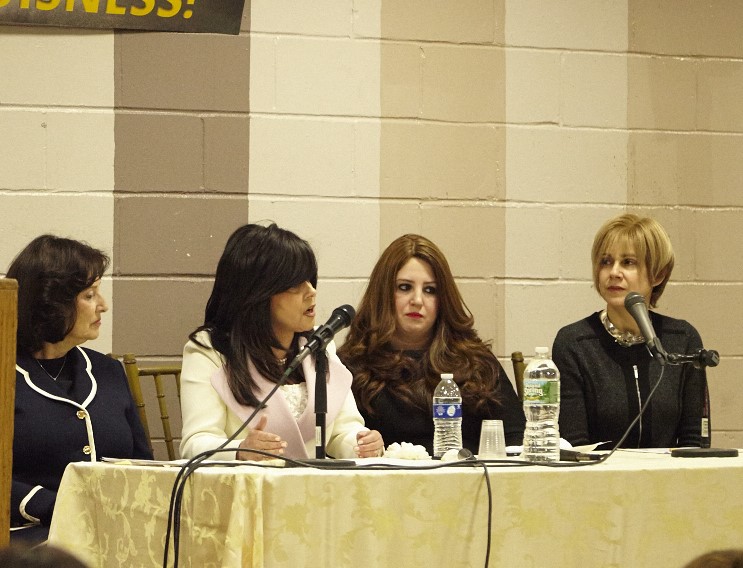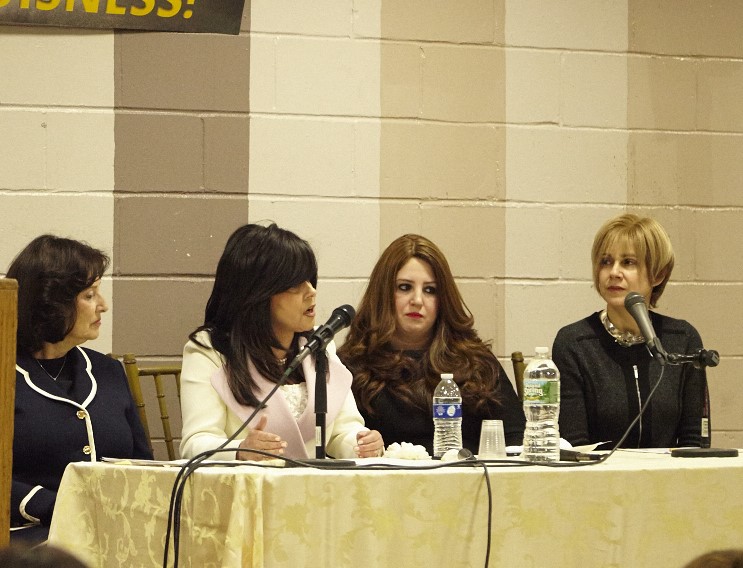 "One-third of the entrepreneurs who approach us for advice are women," says Rabbi Yehoshua Werde, director of Crown Heights Young Entrepreneurs, a full-service, business resource center tailored to the unique needs of the Crown Heights Jewish Community.
Women have many of the same, yet different requirements when starting a business," says Rabbi Werde. "We created the 'Getting Ahead," event to address the specific issues women face when entering the workforce.
Moderated by Mrs. Chaya Abelsky, panel speakers included Mrs. Julie Gniwisch, President of Delmar Jewelrs, Mrs. Devorah Halberstam, Director of Government Services at the Jewish Children's Museum, Mrs. Malka Waronker, Associate Counsel at Consolidated Edison, and Devoree Axelrod, General Manager at AJ Madison.
It takes confidence and bravado to move up the corporate ladder or bring a business to the next level of financial success. Hearing insights and stories of Lubavitch women who have made it, so to speak, in their respective fields, can offer insight and inspiration to Chabad women who are wondering how they can get ahead.
Mrs. Abelsky, an executive coach, started the evening with a story of a man collecting money from passersby. One day he decided to open the trunk he had sat on while begging for 20 years. The trunk was filled with treasure. "The message is that he was sitting on his own wealth," says Mrs. Abelsky.
The first panelist to share her career journey was Mrs. Axelrod, who started at AJ Madison in the customer service department ten years ago. Mrs. Axelrod noticed customer calls were in the hold queue for 30 to 40 minutes—longer than any customer wanted to wait when they had dialed the operator. Reducing the wait time for callers was Mrs. Axelrod's first initiative.
"When I first started I saw there was little infrastructure in the company," says Mrs. Axelrod. "I wasn't brought in a management role, but I realized there were some quick, small changes I could implement that would make a big difference."
One concept that has helped Mrs. Axelrod navigate tough work situations is "Success is the only option." When a longtime vendor was not able to ship to a large customer with many stadiums in California, she researched a different option, offering the customer a full refund if they did not like the new equipment. The risk paid off, and the company was able to retain the client. Mrs. Axelrod encourages entrepreneurs to speak to people for advice, yet follow your gut. On the management side, she advises leaders to be clear about what they expect from their employees.
"I'm proud and thankful for the opportunity I've had to grow with the company," says Mrs. Axelrod, who joined AJ Madison when she was single. She has since not only married, but had children and has managed to balance her career with her family responsibilities by staying "very organized."
Becoming a lawyer was a lifelong dream for Mrs. Waronker, who came to New York from South Africa for law school. Now she's a proud wife and mother of six children who has been able to climb the corporate ladder by standing firm and proud in her Lubavitch lifestyle and values. Her colleagues introduce her as the "mother of six kids" and look at her if she has "three heads," but Mrs. Waronker said her differences work to her advantage. "Every aspect of my life is filled with G-dliness and holiness. They do see me as a religious women with a large family, but most corporations are pushing for diversity." There is no need in Mrs. Waronker's experience to be shy about being frum or being a woman. In fact people respect that she has "interests outside the corporate doctrine.
Mrs. Waronker's message: "Have a goal and work backwards to do what it will take to reach that goal. There is no easy road."
Mrs. Halberstam's life changed irrevocably March 1, 1994 when her son Ari was murdered in a terror attack on the Brooklyn Bridge.
"From the moment Ari was shot, there was a strength that rose up within me that nothing in this world could stop," says Mrs. Halberstam, who became an expert on terrorism in her quest to ensure justice was served in her son's court case. She lobbied to have a sign placed on the bridge in Ari's memory. She also raised $35 million and served as a government liaison to build the Jewish Children's Museum in Crown Heights.
"I'm focused on where I'm going and what I want to accomplish. I love my people, I love being a Jew, I love being a woman. I feel I have to stand up and make a difference," she adds. "You maybe surprised what one person can do in changing the world."
Her main goal after her son's death was to get the government to acknowledge the truth that Ari's murder was a terrorist act. "I was raised n a home where my father only spoke emes," says Mrs. Halberstam. "People have to search for truth, but that's all I saw."
At first Mrs. Halberstam would stand on line for hours to speak with government officials who saw her only as a grieving Jewish mother. Within a year she was invited to an event at the mayor's mansion, where she was able to negotiate a city contract for $7.5 million for the museum. 9/11 and the mayoral election brought challenges in finalizing the contract for the museum to receive the grant money. Mrs. Halberstam raced around the city by cab to get her contract registered before Mayor Bloomberg took office January 1, 2002. She got the city controller's signature just in time. At his inaugural speech Bloomberg announced that any contracts that were not registered would not receive the grant money.
"Wait until tomorrow and you might miss the boat," Mrs. Halberstam cautions.
Her persistence in changing the ruling from murder to terrorism paid off as well. Ari's was the only case ever changed by the Justice Department before or since. "It took a tedious long time," she says. "I never did give up. If you want to do something, just believe in yourself, and in G-d, and I promise you will accomplish it."
Mrs. Gniwisch was a kindergarten teacher when she and her husband took out a loan to help an old friend save his business. They lent the man $25,000 to rejuvenate his jewelry business. The Gniwisch's had six kids in school at the time, but were moved to help a fellow Jew. Three months later, the business failed. The man was unable to pay back the money so he sent the jewelry to Montreal. Mrs. Gniwish traveled around selling the merchandise. Mrs. Gniwish never did recoup the money from that transaction, but discovered her talent for designing and selling jewelry.
"Most well-to-do businesses started by chance—meeting a person at a certain time, having lunch, just being in a certain place, the Aibishter takes you by the hand and leads you to where you need to be," says Mrs. Gniwisch.
A defining moment for the business was when she and her husband had traveled from their home in Montreal to New York to find a special pearl supplier. "He didn't want to sell to me because I wasn't important enough," says Mrs. Gniwisch. She told her husband they should go to Japan – where the pearls were sourced. "I was chutzpah'dik," Mrs. Gniwisch says. "I walked into the Japanese supplier and said, 'I know nothing about pearls, but I want you to teach me because I am going to be your biggest client." And she did become the supplier's biggest customer.Mrs. Gniwisch gives tzedaka generously. She has seen with her own eyes that whatever she gives, she gets back even more in myriad ways. In business over 40 years she has learned to focus on the positive when things get tough. "The customer is always right, but there are times you need to put your foot down, take your losses and smile."
Mrs. Gniwisch and her husband both survived the Holocaust, so family is paramount. "Children, grandchildren, and great-grandchildren," says Mrs. Gniwisch. "That's what we pray for."
Questions from the audience addressed how to compete in a man's world, how to start a business without capital, and then take it to the next level.
Mrs. Abelsky wrapped up the night with inspiration. "No matter what, you have the koach to get ahead."